Unlimited photo galleries give your members lasting memories!
Golf League Photo Gallery
This is a very versatile feature of your league web site. It has the ability to display an unlimited number of pictures in each gallery and an unlimited number of galleries. You can divide the year into categories (i.e. First half activities, Second Half activities, Outings, etc.) and add a photo gallery for each.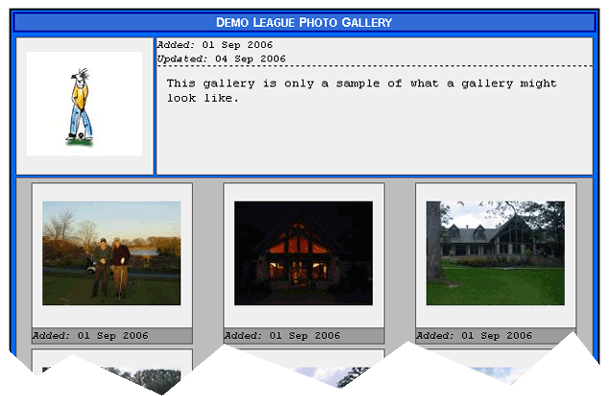 Demo Golf League Photo Gallery
The screen shot to the right is from the golf league demo. This gallery is only a sample of what pictures in a gallery might look like. Your pictures will have league members in it which makes it personal. Whether we are in the cold days of winter or just looking back a year or two to see how things have changed, your members will love it! Pictures are fun and they make the golf league experience better for your players.
You can see the entire demo golf league gallery and much more by logging in to the demo. The demo is not as good as having your own golf league software, but it does give a good representation of what your own GolfLeague might look like.
Photo Gallery Tip
Usually there is a player in a golf league who likes to take pictures. Find this person and your golf league will have nice pictures each year!